A newly opened space in Glover Park is trying out an innovative model for restaurants operating amid the coronavirus pandemic. In the process, it might open up a path forward for live jazz at a time when the future of the music is threatened in D.C. and around the country.
Ghostline DC, a so-called restaurant collective that opened late last month, will launch a weekly jazz series this Saturday, when vocalist Sharón Clark performs with her quartet in one of the first in-person concerts in D.C. since the start of the pandemic.
Clark will perform separate sets at 7 and 9 p.m. There is a $20 cover charge for each performance. Most of the entrees, which in an early tour of the restaurant proved to be mouth-watering, will run you from $15 to $20, but there is no minimum at the shows.
Trumpeter Joe Brotherton will take the stage with his band the following weekend, on Sept. 26, followed by saxophonist Paul Carr on Oct. 3, pianist Zach Grady on Oct. 10 and trombonist Reginald Cyntje on Oct. 17.
As a restaurant collective, Ghostline is similar to a food court or a food hall such as Union Market — except that the five independently owned businesses housed at Ghostline share a single menu, as well as splitting kitchen space and labor. This allows customers to order from multiple restaurants at once, and pay for their food under one bill.
Some of the chefs operating at Ghostline have backgrounds in Michelin-starred dining establishments. The spot has a 2,000-square-foot garden patio, of which about 200 square feet will be allotted to the performing musicians. It can comfortably seat 50 socially distanced patrons, said Ghostline co-owner Tracy D. Wilson.
She said the idea was to serve as "a model for how you can live under the pandemic safely."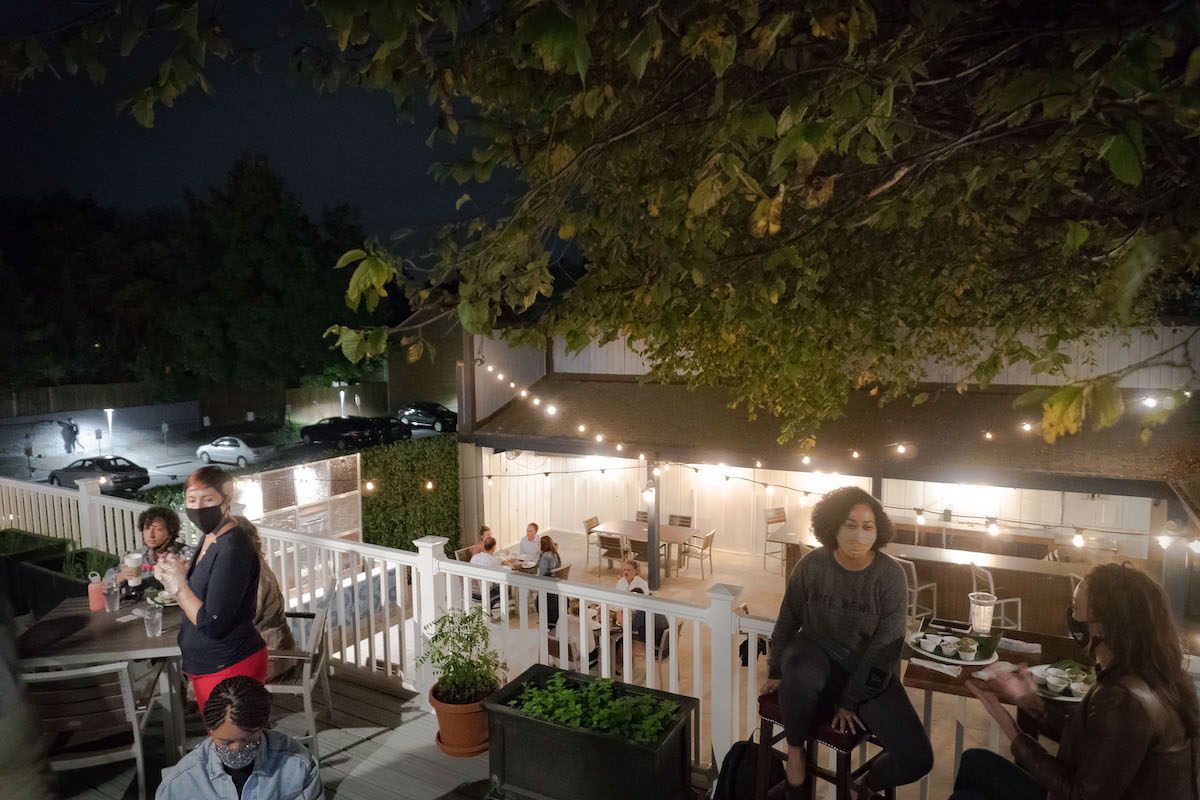 The D.C.-based restaurant group that operates Ghostline also operates Little Beast bistro and the Red Light lounge, and until recently it owned the café Bakers and Baristas. Wilson's husband, the celebrated trumpeter Thad Wilson, booked the music for Little Beast and Bakers and Baristas. He is also producing the shows at Ghostline.
Tracy and Thad Wilson said they were committed to transforming Ghostline into a full-on listening experience at these weekend shows, rather than simply using musicians as a soundtrack for restaurant diners.
Thad Wilson said he planned to book musicians who would command a crowd's attention. "I'm trying to book artists that demand that," he said. "When you go to hear Reginald Cyntje, you probably need to be aware that you need to listen to his stuff."
The patio also features 15 gas heaters around the perimeter and Ghostline plans to build a fire pit and tent the area to keep patrons comfortable in the winter months. The Wilsons said they planned to host music 12 months out of the year, and they suggested that the Saturday-night concerts might ideally be only the beginning of a more robust music schedule going forward.
Comments
comments