This weekend marks the close of INTERSECTIONS, an annual festival held at the Atlas Performing Arts Center. Now in its fifth year, the always-compelling event features collaborations that break down boundaries between disparate genres and artistic media, while capturing the numerous perspectives that exist in an increasingly diverse and ever-evolving cultural landscape. Naturally, jazz always has a strong presence at the festival and this year's lineup featured a host of musicians familiar to the area's scene, including Amy K. Bormet, Sarah Hughes, Brad Linde, Akua Allrich and others.
Jazz is well suited for such cross-pollination because of its improvisational nature; by definition it frees musicians from the rigidity that would obstruct meaningful communication. I've written previously about how an important aspect of jazz's evolution is its ability incorporate seemingly unrelated musics into its canon. This was the case when Dizzy Gillespie and the Cuban percussionist Chano Pozo gave rise to Latin jazz, or when John Coltrane's friendship with the Indian sitarist Ravi Shankar influenced the saxophone legend's more spiritual explorations. In the spirit of INTERSECTIONS, for this column I'd like to depart from that theoretical arena, and provide some concrete examples of jazz-related projects throughout the years that cross traditional creative classifications.
The first piece is The Afro-Eurasian Eclipse by Duke Ellington. This suite, written in eight parts, was recorded in 1971 and released in 1975. With titles like "Chinoserie", "Afrique" and "Acht O'Clock Rock", it's clear that Ellington was feeling the pulse of a rapidly changing world, where globalization was taking root. The Cold War was still going strong, but the United States had opened its borders to immigrants from South Asia, East Asia and Africa. Nixon was on the verge of re-establishing relations with China. "World Music" was on its way to becoming recognized as a genre, and offering new sounds. The international influences that appear on the album might sound cliché and inauthentic today, especially to people who come from the cultures that Duke attempts to convey. In the context of the early '70s, seen through Ellington's filter, it is one of his most intriguing later projects.
There are also many examples of jazz musicians collaborating with ensembles in their native setting; they find varying degrees of success. The Master Musicians of Jajouka* are a Moroccan group that comes out of the Berber community, and whose music is rooted in Sufism, a mystical form of Islam. In 1975, the saxophonist Ornette Coleman released the album Dancing In Your Head, which features the Master Musicians on two tracks, both called "Midnight Sunrise." At first listen, these tracks sound cacophonous and unstructured, but further listening reveals that the Master Musicians are very much playing in their traditional style while Coleman is reacting to their textures with an avant-gardist's mentality. The Master Musicians of Jajouka have entered the digital age with their most recent effort, The Road to Jajouka. Produced by Billy Martin, of Medeski Martin & Wood fame, the album includes collaborations with both jazz musicians and electronic artists.
Miles From India
, an album from 2008, is another example of jazz musicians adapting their approach to fit with a more ancient tradition. This compilation is built around the compositions of
Miles Davis,
and features jazz icons like
John McLaughlin
and
Chick Corea
playing alongside renowned musicians from classical Indian forms. The fusion works extremely well on Miles' work from the '70s, which was groove-oriented and modal in nature. The music sounds more contrived and less of a natural fit when it takes on earlier material, such as songs from
Kind of Blue
. A sitar wasn't meant to swing and there is no reason to force the instrument into that context.
But INTERSECTIONS is about more than just fusing disparate genres, it's also about bringing together different modes of expression. Here, too, jazz has provided a worthy foil for artists across media. A perfect local example comes from Michael Bowie, one of the area's finest bassists. In 2013 his band, Sine Qua Non, released Simple Pleasures, among last year's best-received local albums. The group successfully incorporated a dance accompaniment into the music's presentation at the 2013 INTERSECTIONS. Vijay Iyer is among the world's most celebrated jazz pianists, and he has brought dramatic and visual elements into his music through his collaborations with the performance artist, Mike Ladd. For their latest partnership, Holding it Down: The Veterans' Dreams Project, Ladd interviewed hundreds of veterans of color who fought in Iraq and Afghanistan about their dreams, in multiple contexts of that word. He dramatized these experiences, and Iyer's music is their aural interpretation. Holding it Down was also performed at last year's INTERSECTIONS.
Film is another medium that jazz musicians have incorporated to great effect, but not just in the sense of adding a soundtrack to projected footage. Last year there were many events held in D.C. to commemorate the 50th anniversary of the March on Washington. The most significant, from a jazz perspective, was the trumpeter Wadada Leo Smith performing his Ten Freedom Summers, which was a finalist for the 2013 Pulitzer Prize, in its entirety. In addition to the voluminous music that was spread over three concerts, the performance used  pre-recorded footage, abstract visual effects and live projections of the artists. In 2007, the Kennedy Center's current artistic advisor for jazz, Jason Moran, came to the Lisner Auditorium to perform In My Mind: Monk at Town Hall. Moran and his band recreated Thelonious Monk's famous concert. The performance incorporated multimedia elements spanning recorded conversations, film and archival photography, all assembled by the visual artist David Dempewolf. The accompanying media tied together Monk's compositions with his ancestry and the Civil Rights struggle of his time.
These are examples of largely successful mashups, wherein jazz and its given counterpart combine to make a creative statement with integrity. From an audience member's perspective, this success comes from the care that the artists take to truly understand every component to their performances. In instances where the fusion doesn't work, it's generally because the ingredients are simply lain on top of each other, like layers in a sandwich that falls apart too easily. Effective synthesis is more like a fine stew, where all the flavors blend together and are indistinguishable from one another.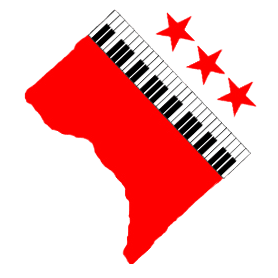 —
Sriram Gopal is CapitalBop's monthly columnist. He can be reached at [email protected]. His column appears on the first Thursday of every month.
Clarification: The original version of this article mistakenly used an alternate spelling of the Master Musicians of Jajouka. The Master Musicians of Joujouka are a separate group of performers, located nearby, who are led by Mohammed Hamri and have also recorded with some Western artists. The Master Musicians of Jajouka, by contrast, operate under the guidance of Bachir Attar, who was involved in the Ornette Coleman collaborations during the 1970s. It is this latter group that is behind the recently released album, The Road to Jajouka.
Comments
comments